Binh Duong becomes a bright spot in investment attraction from ASEAN
---
After 21 years of Vietnam's admission to the Association of Southeast Asian Nations (ASEAN), Binh Duong has become a bright spot in investment attraction from enterprises in the region.
Highlight from VSIP
Binh Duong has gradually perfected infrastructure facilities, constantly reformed administrative procedures, creating a favorable investment climate for enterprises…This has helped the locality absorb thousands of foreign investors, many of them came from ASEAN. The most noticeable thing is the steadfast cooperation between Singapore and Binh Duong. Tran Van Nam, Secretary of provincial Party Committee said that Singapore has ranked fourth among big investors in the province, but the relationship between Singapore and Binh Duong is very profound. Over the past time, comprehensive cooperation between the two sides was very good with Vietnam-Singapore Industrial Park (VSIP) seen as the successful pinnacle of the bilateral relationship.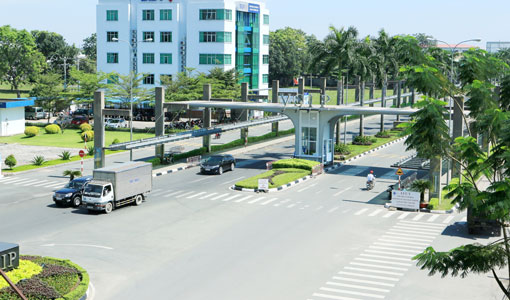 VSIP is one of Singapore's most successful cooperation project in Binh Duong
Vietnam Singapore Industrial Park Joint Venture Co. Ltd. (VSIP JV) has become a symbol of cooperation and friendship between Vietnam and countries in ASEAN in general and Singapore in particular. So far, province-based VSIPs have lured 21 domestic projects with a total registered capital of more than VND3.83trillion and 426 FDI ones. The success of VSIPs has also opened up opportunities for investment in and out of the region for ASEAN when the ASEAN Economic Community (AEC) takes effect. With flexibility and creativeness, Binh Duong began promoting inter-regional investment 20 years ago. One of the province's first important steps right after Vietnam joined ASEAN was to join hands with Singapore to set up VSIP.
Till now, Binh Duong has drawn 138 projects from Singapore with a total investment capital of more than US$1.72billion, ranking fourth among 39 countries and territories making investment here. Chu Ying Piao, CEO of International Chutex Co.Ltd. at Di An town-based Song Than 2 IP said: "Twenty years ago, I accompanied a diplomatic delegation of Singaporean government to arrive in Binh Duong for the first time to seek investment opportunities. At that time, I realized a great potential for trade cooperation in the province. In fact, Binh Duong created favorable conditions for us when beginning to realize our investment project here. Thanks to the attention and help of the local administration, the company has developed vigorously".
Hoang Duc Hien, Singapore's Ambassador to Vietnam affirmed: "We have always considered Binh Duong as a reliable and comprehensive partner for economic development. Binh Duong was an attractive destination for Singaporean investors over the past time. With the success of the VSIP model plus great opportunities from the AEC, Binh Duong will further absorb investors from Singapore in particular and ASEAN countries in general".
High expectations for AEC
The AEC is a great opportunity for intra-regional investors to further pour capital into Vietnam in general and Binh Duong in particular. According to experts, after the AEC takes effect, foreign capital inflow from ASEAN countries to Vietnam will continue increasing strongly. And Binh Duong will continue being one of the most attractive destinations for foreign investors.
Currently, ASEAN investors are present in 56 out of 63 provinces and cities nationwide, but mainly in ones with favorable infrastructure systems and the most flexible economic development like HCM city, Binh Duong, Ba Ria-Vung Tau, Ha Noi, Hai Duong…HCM city has taken the lead in investment attraction from ASEAN countries with 1,169 projects capitalized at US$16.07billion or 29% of total investment capital from ASEAN countries in Vietnam.
Since early this year, Binh Duong has lured more than US$1.24billion in FDI capital. The whole province has to date attracted 2,728 FDI projects with a total registered capital of US$24.9billion. Noticeably, the capital amount from ASEAN investors to the province has constantly grown up. This showed that Binh Duong will continue being an ideal destination for ASEAN investors and become one of role-models for the common success of Vietnam after joining ASEAN.
(Tan Binh Industrial Park)
(Source: http://baobinhduong.vn/en/)
---